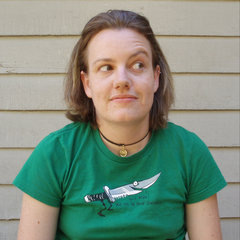 Jennica Derksen
Senior Environment Artist at Retro Studios
Austin, United States
Summary
For the past decade I have been lucky enough to get to make awesome props and environments for AAA video games. I currently live in Austin, Texas working as a senior environment artist at Retro Studios.
When not camped in front of my computer I enjoy watching movies where things blow up, listening to old time radio shows, reading hard-boiled detective novels, and planning for the eventual zombie apocalypse.
Skills
Hard Surface Modeling
Digital Sculpting
World Building
Lighting
Procedural Texturing
PBR Texturing
Storytelling
3D Modeling
UV Mapping
Low-poly Modeling
High-poly Modeling
Hand Painted Textures
Texture Baking
Software proficiency
Productions
Video Game

Prey: Mooncrash

Year

2018

Role

Environment Artist

Company

Arkane Studios

Video Game

Warframe

Year

2013

Role

3D Artist

Company

Digital Extremes

Video Game

Halo 4 DLC

Year

2012

Role

3D Artist

Company

Digital Extremes

Video Game

Darksiders II

Year

2012

Role

Environment Artist

Company

Vigil Games
Experience
Senior Environment Artist at Retro Studios

Austin, United States of America

Senior Environment Artist at Arkane Studios

Austin, United States of America

Collaborated with the architect team to bring 3D concepts and gray box block outs to final game ready art. This included sculpting hero assets as well as creating tileables and laying out trim sheets for efficient kit-bashing. Developed and maintained a stylized Substance library of materials, tools and generators for other in house and outsource artists to use in an effort to promote pipeline efficiency as well help standardize our material look and feel. Mentored junior artists and created documentation to help clarify the asset production process for new hires and outsourcing teams.

Level Architect at Arkane Studios

Austin, United States of America

Responsible for designing and building a FPS level and maintaining it until release. This included finding visual reference, prototyping and iterating on level geometry, creating high fidelity asset proxies, set dressing as well as performance tracking and level debugging. Partnered with the design team to execute game ideas and to realize narrative and game play intention.

3D Artist at Digital Extremes

London, Canada

September 2012 - March 2015

Kitbashed and sculpted various assets for Warframe from concepts or my imagination. Generated alternate texture variants for existing assets and made existing textures compatible with our system of color tinting in the engine. Arted out modular rooms; completing structural, prop, lighting and effect passes. Created armor skins and the Ricochet Armor for the Halo 4 Champions DLC.

Associate Environment Artist at Vigil Games

Austin, United States of America

Collaborated with designers to bring blue room dungeon layouts to art alpha. Tasked with structural, propping, lighting and effects passes. Modeled high and low poly assets, hand painting texture maps. Kit-bashed new assets out of existing textures and models. Performed optimization passes and hunted bugs.

Contract Environment Artist at Liquid Entertainment

Pasadena, United States of America

Supported the art team by identifying and fixing bugs, creating collision meshes and setting up materials in Unreal for the console game Thor: God of Thunder.

Art Intern at Spark Unlimited

Sherman Oaks, United States of America

October 2009 - December 2009

Provided support to the environment art team for an unreleased 3rd person action console title, modeling and texturing assets as needed to further the look and feel of the level. Performed set dressing passes of both urban interior and outdoor environments.

Environment Art Intern at Neverdie Studios

Los Angeles, United States of America

July 2009 - September 2009

Created and textured assets for the Rocktropia planet in the Entropia MMO Universe with special attention given to poly optimization and the use of tiling textures. Imported models into the CryEngine 2 editor and created materials. Cleaned up and re-textured outsourced models.